March 21, 2014
I'm pleased to announce the upcoming release of my next book, Cataloging the World: Paul Otlet and the Birth of the Information Age, to be published in June 2014 by Oxford University Press.
This book has been in the works (off and on), for more than twelve years, ever since I first stumbled across an article by Boyd Rayward that referenced an obscure Belgian bibliographer who envisioned something like the Internet in the 1930s. In the years since then, I have found myself gradually drawn in by the legacy of this brilliant, enigmatic, and at times maddeningly difficult character.
Otlet's work--largely overlooked in the traditional Anglo-American history of computing--offers a provocative vision of an alternative networked world, one driven not by private enterprise but by a new international entity dubbed the Mundaneum, a kind of central intellectual cortex intended to connect the world's governments, universities, museums, libraries, and other institutions into a unified intellectual whole, all available to anyone in the world, "from the comfort of his armchair."
If you're interested in learning more about the book (and how to pre-order), allow me to suggest my newly launched book website: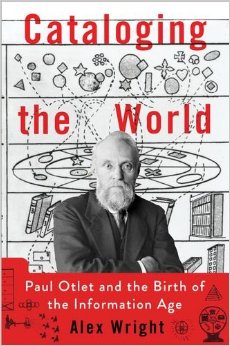 1>
Cataloging the World:
Paul Otlet and the Birth of the Information Age
by Alex Wright
---
Previously: Sketchnoted
Now available for pre-order:



Cataloging the World:
Paul Otlet and the Birth of the Information Age
by Alex Wright
A "shrewd, brisk biography."
—Kirkus Reviews
GLUT:
Mastering Information Through the Ages
by Alex Wright
"A penetrating and highly entertaining meditation on the information age and its historical roots."
—Los Angeles Times