A Trip to the Morgue
May 21, 2009
The daily broadsheet newspaper may one day go the way of the linotype, but down in a basement on 41st street sits a living time capsule from the old ink-stained world: The New York Times morgue.
The morgue is not, alas, what it once was. At its peak, the collection is thought to have included more than 20 million individual items. When the Times abandoned its old building on 43rd street for its new glass-and-steel office tower, it gutted the old library and reduced the size of the morgue by more than half. But the morgue still houses a formidable collection, weighing in at three quarters of a million pounds worth of newspaper clippings, photographs, books and other print artifacts.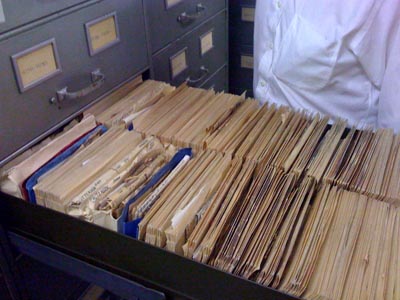 Most of the collection occupies long rows of army-green metal cabinets. These are the clip files, consisting of more than a century's worth of articles taken from the Times and other publications, all carefully hand-cut from the papers and indexed by name using an arcane numeric filing system. Those names include not just people but fictional characters, horses and famous dogs.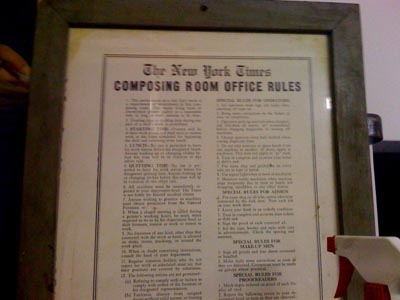 The collection also features some remarkable ephemera. Propped up in one corner is Admiral Bird's flag from the north pole. Here is a photo of an old page one meeting, compositor's rules, air raid drill instructions - and a long-lost set of photos of Jimi Hendrix playing at Woodstock, nearly lost to posterity due to a photographer's inept spelling: "Jim Hendricks."
No one much gets down to the morgue anymore. Only a handful of Times employees have the key. But it's a remarkable trove of institutional memory, and an important historical resource that deserves to be preserved. And who knows - if the lights go out on the newspaper business one day, the morgue may just be the one thing that lives on.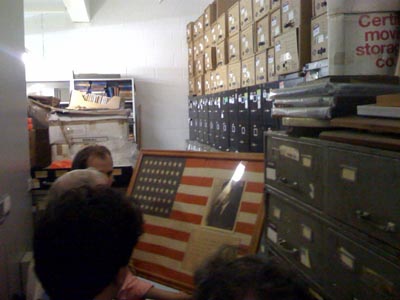 Previous: Throw Down Your Heart | Next: The Print Shop
New Paperback Edition
"A penetrating and highly entertaining meditation on the information age and its historical roots."
—Los Angeles Times